Book hotel for your trade fair visit

Book now and benefit from the improved hotel conditions and special cancellation periods* of our numerous partner hotels when booking your hotel. In order to take advantage of these special deals please book directly via our hotel portal:
Hotel Portal: Book now and save!
Our Hotel Reservation Team will be happy to assist you in booking a hotel:
Office hours from Monday to Friday: 9:00 am to 5:00 pm. But at any time we will gladly accept your inquiries by e-mail:
hotelreservation@leipziger-messe.de
Phone: +49 341 678-6860
Note: The hotel category ( **/ ***/ ****/***** stars) as indicated by Leipziger Messe in the hotel reservation is based on personal evaluation following an inspection of each hotel. It is not always identical with a hotel rating according to the German Hotel and Restaurant Association DEHOGA or the hotel category marketed by the hotels. Our service is intended for exhibitors and visitors of Leipziger Messe GmbH. Unfortunately, we are not able to consider bookings by resellers (travel agents).

Discover Leipzig's Landmarks
The trade fair city of Leipzig is undeniably a city of history, musicians and thinkers. Many of the sights are centrally located and within walking distance. Take a stroll through the trade fair city and get to know Leipzig's fascinating museums and collections. The city also offers plenty of diversions for active holidaymakers and families. If you want to head straight to the water to go surfing or swimming, in Leipzig you don't have to go far: the Leipzig Neuseenland awaits sports enthusiasts and recreation seekers, and is just outside the city gates. Get inspired
Glamorous Cultural Evenings in Leipzig
Besides the sights, there's a rich cultural programme in store for you. Whether high culture or off-stage, music, theatre or Leipzig's traditional cabaret scene - there is something everyone.
The calendar of events taking place in the city gives an idea of what's going on in Leipzig. You can find tips for off the beaten track experiences on the "Hidden Leipzig" pages.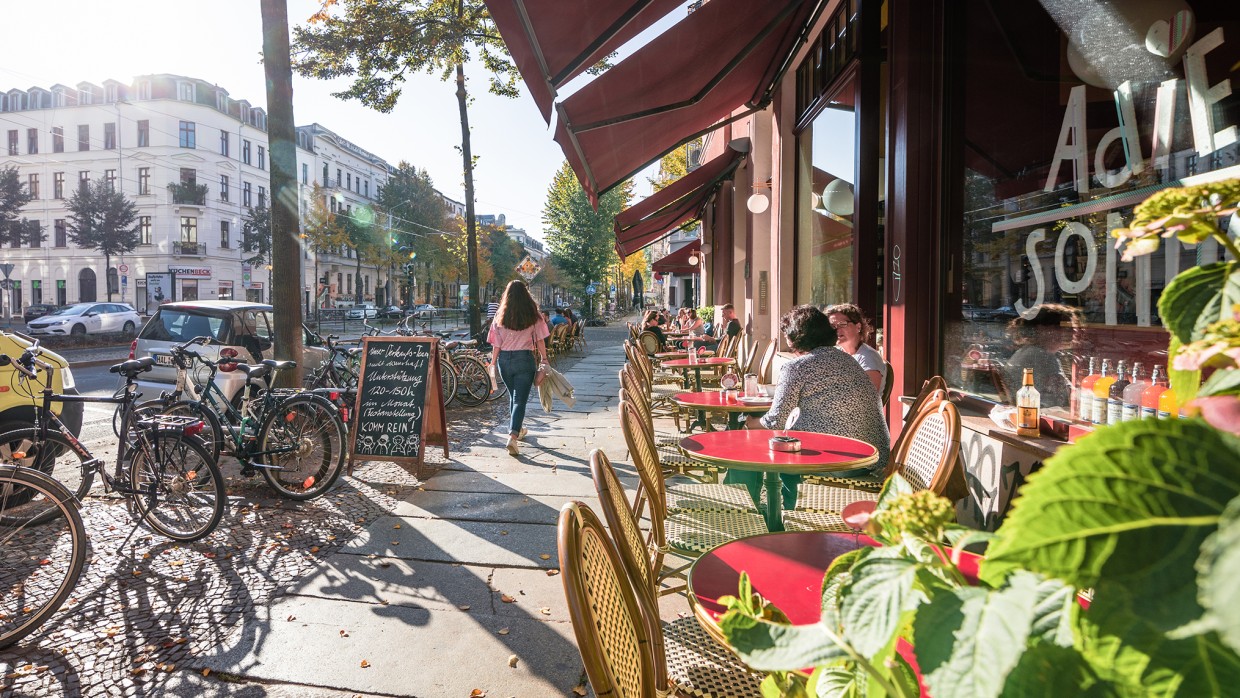 A variety of tastes: From Leipziger Allerlei to Gose beer
Whether you consider yourself a gourmet or like to hang out in bistros and coffee houses, or are a fan of hearty regional cuisine: With more than 1,400 restaurants, bistros and bars, Leipzig offers something for every palate.
How about some Leipzig specialities, including "Leipziger Allerlei" with vegetables and crayfish or the tasty "Leipziger Lerche"(shortcrust), the dessert "Leipziger Räbchen", the strong caraway liqueur "Allasch" or "Gose" beer. You will find more information on the City of Leipzig homepage: "Food and Drink"